Standard Practices of our Methodolgy
'Interactive' Teaching - Students learn more by interaction in classes.
Use books only as an outline for lessons - Conduct lessons orally.
'Scenario Based Teaching' - Teach structure through functional situations.
'Conducive Learning Environment' - Encourage students to question.
Teach useful structures rather than just vocabulary.
Use the target language as the only conversation medium to improve 'Conversational Skills'
Cater to individual needs of students.
Use examples and not bookish theories.
Use Audio-Video Aids to introduce cultural aspects of the language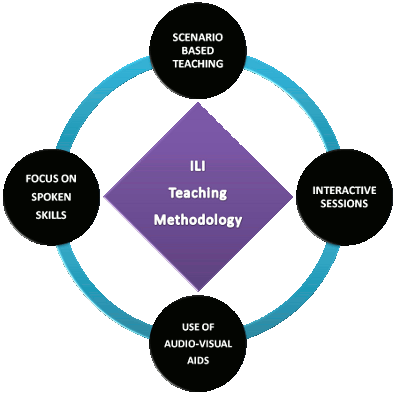 At ILI, we follow a customized approach to learning i.e. we believe in identifying the discrete needs of our students and then tailoring our teaching approach in accordance with individual goals for learning a language.
Keeping in view the practical use of foreign languages in India, ILI focuses on the conversational aspect - listening and speaking. We believe that in improving their oral communication or speaking skills we build confidence in the student to use the language and further encourage him/her to develop reading and writing skills as well. In addition, we also provide our students with the necessary working knowledge of the corporate communication instruments - email writing etc.
In class the students learn by speaking and listening. They are encouraged to participate in 'real life' activities, role-plays and discussions where they are required to speak and listen to their colleagues and instructor. This gives them a chance to apply what they are learning and prepares them to face similar situations in the real world, confidently. The ILI method is also significantly different from the lecture method since most of the class time is spent by the students speaking in the target language.